San Diego Coastal Homestays is dedicated to bringing people of different cultures and nations together to learn from each other in a fun and entertaining environment.  This is a great way to broaden your horizons without leaving the country…
SDCH provides ESL classes with a choice of homestay or dormitory stay for groups of International students with a variety of full day excursions and tours.  Most classes are held at CSUSM, in San Marcos.
SDCH provides Interactive homestay /Surf programs each Summer for Spanish and other Int'l students. The program includes surf camp, plus other day activities, as described on the itinerary.  The hosting teen is  invited to join all activities.
Surf classes are taught by San Diego's premier Surf School- SurfinFire.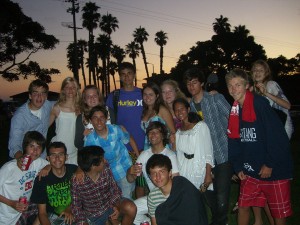 Please use the Contact Form to send us an e-mail. You will also find our phone number and mailing address on the Contact Us page. If you like our website and would like to share it with your friends, please use the links on the toolbar at the bottom of the page and in the header to bookmark us in your favorite social bookmarking sites.